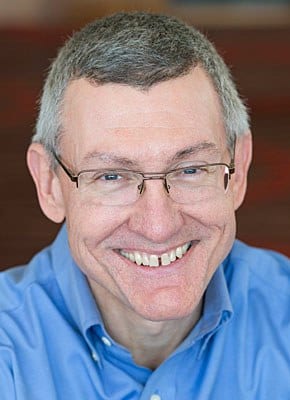 I hope that when people come to me for counseling, they feel less like they're talking to a counselor and more like they're talking to a human being. Yes, a counselor needs to have "counselor knowledge" and "counselor skills," and I have spent much time and energy to acquire them (more on that a little later). But through the years, as I have studied and trained, it has been important to me to integrate counseling knowledge with my personal history and experience so that I know not just how "a counselor" responds to various situations, but how "I" respond. There are undoubtedly times when I sound like a counselor (at least that's what my kids tell me), but what I think helps people most is when they experience me as a real person.
So here's a little bit about who I am and how it connects with the way I do counseling. I grew up with a lot of diversity. I am white, but I went to school in a majority-black school system and had important relationships with people of both races. My parents were both public school educators and instilled in me the value of education, but we lived in a community where many people believed too much education could ruin a person, and if you got a little uppity they'd chop you down to size. Our family was middle class, yet we were friends with people who had more money and status and people who had less. We were open-minded Baptists, yet we had meaningful relationships with people who were religiously more conservative and people who were not religious at all. As a result, I learned how to understand lots of different people, how to respect them, and how to have relationship with them.
One of the things I love about being a counselor is getting to talk with such a diverse group of people: women and men; young and old; black and white (and sometimes Latinx or Asian); people who work in schools, factories, medical offices, banks, and grocery stores; people whose spiritual life is deeply important to them and people who claim no spiritual life at all. Everybody has a story to tell and a truth to discover, and I love getting to hear it from so many different perspectives.
When I was 15 I had a religious experience that changed who I was and that continues to guide me. I was on a church retreat led by an older man who was outwardly unimpressive and downright unappealing, but inwardly very discerning. He overheard me say something "cool" to one of my friends-I no longer remember what it was–and he recognized that what I said was intended to make me pleasing to my friend and make my friend like me. The retreat leader looked at me and said: "I don't think the real Russell Jones would say that." I laughed him off with the usual teenage nonchalance, but on the inside, he had nailed me: there was a real me and there were many different false me's. Which of those was I going to live from?
What happens on the human journey, of course, is that we keep forgetting who the real me is. The Christian religious tradition calls that "being lost," and one of the places we're often lost is in trying to be the person we think others want us to be. But what also happens is that we get found. My tradition calls that "grace," and it's often another person who finds us and says "Here you are. Here's the real you." Another thing I love about being a counselor is that sometimes I get to be that person for somebody else (the way that old man was for me, and the way many others have been for me since) and I get to witness how peoples' lives change when they know what's real in them and what's not.
It does help to have specialized training and experience as a counselor — it's not enough just to be a real person–and you may want to know some of mine. I have a B.A. from Furman University (1983), a Master of Divinity from Southeastern Baptist Theological Seminary (1986), and a Doctor of Theology from Columbia Theological Seminary (1999). I am a Diplomate in the American Association for Pastoral Counseling (AAPC). Through the years I have done a lot of continuing education. The most meaningful to me have been extensive trainings in Internal Family Systems and Sensorimotor Psychotherapy. An important part of my learning as a counselor has been the experience of being in counseling myself. I have been in nine years' of counseling, including a year of marital counseling. This experience has helped me to know what it's like to be a client, to know the difference between my issues and others' issues, and how to accompany others more deeply on their journeys.
I worked two years in a community mental health center, three years as an associate pastor, five years as a hospital chaplain, and from 1996-2007, as a pastoral counselor at the Pastoral Counseling and Growth Center in Asheville. All total, I have been doing counseling for over 25 years. In August 2007 Jeanine and I moved our practice to our present location at 239 South French Broad Avenue in Asheville. In 2008, I became Director of the Residency in Psychotherapy and Spirituality at CareNet/Wake Forest Baptist Medical Center. In that role, I teach and supervise therapists during the first two years of their careers.
If I had to describe what I do in just a phrase, it would be: I help people connect with the inner resources they need to live fully. These resources include things like compassion, calmness, wisdom, clarity, and courage. I do not give these inner resources to anyone. I cannot. And I need not. They are already there, gifts from God. Sometimes we lose connection with them, and sometimes we need help in reconnecting with them, but they are always available. This is spiritual work of great importance. I am grateful for those who have helped me deepen my connection with these inner resources and who have helped me find the connection again when I have lost it. It is a great privilege to offer this help to others.